Chief Scientist Triangle R&D Center
Biochemistry, Biophysics and Molecular Biology Expert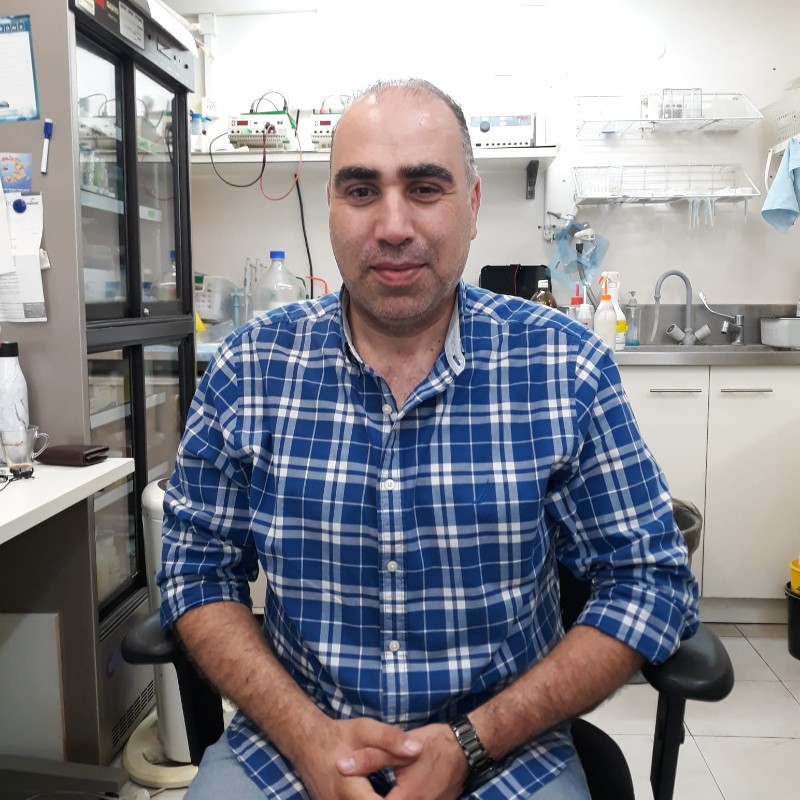 Biochemistry and Molecular Biology, signal transduction, Macrophages, Tissue culture • Organic synthesis of biologically active substances, Inclusion complexes, Application of cyclodextrins in the pharmaceutical, food, agriculture and cosmetic industries.
Pheromones and biological control of pests, Bacteriology and drug resistance, Mechanisms of drug resistance in MDR bacteria, Employing lectins in diagnoses of Mycobacterium, Functional Food, Plant extracts
Regulation of TLR4 in Macrophages by Sphingolipids, 2015
Identification and characterization of new genes associated with rare neurodegenerative diseases, 2010-2015
Chemical encapsulation and drug targeting, 2006-2010
Bacillus anthracis and drug resistance, 2004-2007
Developmentand application of a rapid method for d e t e c t i o n o f Mycobacterium tuberculosis, 2000-2003
Tissue Culture laboratory, ELISA assays, Western Blots, transfection of plasmids and molecules to cells (Monocytes and macrophages….) with high yield, FACS, extraction of primary cells (BMDMs) from mice with high amounts, Molecular biology, transformation of plasmids, extraction of plasmids, overexpression in cells, plasmids preparation, silencing genes with siRNA and shRNA.
Synthetic Methods in Organic and Pharmaceutical Chemistry;Separation and Purification Methods; Crystallization Methods; Spectroscopic Methods: NMR, IR, UV and Chromatographic Methods: GC, HPLC, TLC, LPLC and VLC.
Working with bacteria, susceptibility tests, antibiotics, PCR, Electrophoresis, antibiotic resistance mechanisms, identification of Bacteria, preparation of plant extracts and essential oils by distillation and Steam Distillation.
Su L*, Athamna M*, Wang Y, Wang J, Freudenberg M, Yue T, Wang J, Moresco EM, He H, Zor T, Beutler B. Sulfatides are endogenous ligands for the TLR4–MD-2 complex. Proceedings of the National Academy of Sciences. 2021 Jul 27;118(30).* equal contribution
Ernst, Orna, Hila Failayev, Muhammad Athamna, Haoming He, Yossi Tsfadia, and Tsaffrir Zor. "A dual and conflicting role for imiquimod in inflammation: A TLR7 agonist and a cAMP phosphodiesterase inhibitor." Biochemical Pharmacology 182 (2020): 114206.
Ernst, Orna, Yifat Glucksam-Galnoy, Bibek Bhatta, Muhammad Athamna, Iris Ben Dror, Yair Glick, Doron Gerber, and Tsaffrir Zor. Exclusive temporal stimulation of IL-10 expression in LPS-Stimulated Mouse Macrophages by cAMP Inducers and Type I Interferons. Frontiers in immunology 10 (2019): 1788.
Ernst, Orna, Yifat Glucksam-Galnoy, Muhammad Athamna, Iris Ben-Dror, Hadar Ben-Arosh, Galit Levy-Rimler, Iain DC Fraser, and Tsaffrir Zor. The cAMP pathway amplifies early MyD88-dependent and type I interferon-independent LPS-induced interleukin-10 expression in mouse macrophages. Mediators of inflammation 2019 (2019).
Dandela, Rambabu, Roi Mashiach, Raju Adepu, Rachel Gregor, Muhammad Athamna, Efrat Zecharia, Orna Ernst, Tsaffrir Zor, and Michael M. Meijler. Synthesis and evaluation of a tag- free photoactive phospho-ceramide analogue-1 (PCERA-1) probe to study immunomodulation in macrophages.Chemical Communications 53, no. 27 (2017): 3842-3845.
Katz, Sebastián, Orna Ernst, Dorit Avni, Muhammad Athamna, Amir Philosoph, Lide Arana, Alberto Ouro et al. "Exogenous ceramide-1-phosphate (C1P) and phospho-ceramide analogue-1 (PCERA-1) regulate key macrophage activities via distinct receptors." Immunology letters 169 (2016): 73-81.
Sharkia, Rajech, Jalal Tarabeia, Abdelnaser Zalan, Esmael Atamany, Muhammad Athamna, and Stavit Allon‐Shalev. "Factors affecting the utilization of genetic counseling services among Israeli Arab women." Prenatal diagnosis 35, no. 4 (2015): 370-375.
Xu, Doudou, Lijun Wang, Dana Gourevich, Eihab Kabha, Fabian Arditti, Muhammad Athamna, Sandy Cochran, Andreas Melzer, and Jallal Muhammad Gnaim. "Synthesis and Inclusion Study of a Novel γ-Cyclodextrin Derivative as a Potential Thermo-Sensitive Carrier for Doxorubicin." Chemical and Pharmaceutical Bulletin 62, no. 7 (2014): 627-635.
Rajech Sharkia, Muhammad Mahajnah, Abdelnaser Zalan, Muhammad Athamna, Abdussalam Azem, Khader Badarneh, Fuad Faris., Comparative screening of FMF mutations in various communities of the Israeli society; European Journal of Medical Genetics; 2013
Muhsen K, Athamna A, Athamna M, Spungin-Bialik A, Cohen D., Prevalence and risk factors of Helicobacter pylori infection among healthy 3- to 5-year-old Israeli Arab children., Epidemiol Infect. 2006 Oct; 134(5):990-6. Epub 2006 Mar 2.
Athamna A, Cohen D, Athamna M, Ofek I, Stavri H., Rapid identification of Mycobacterium species by lectin agglutination., J Microbiol Methods. 2006 May; 65(2):209-15. Epub 2005 Aug 9.
Godin B, Touitou E, Rubinstein E, Athamna A, Athamna M., A new approach for treatment of deep skin infections by an ethosomal antibiotic preparation: an in vivo study., J Antimicrob Chemother. 2005 Jun; 55(6):989-94. Epub 2005 Apr 27.
Athamna A, Athamna M, Nura A, Shlyakov E, Bast DJ, Farrell D, Rubinstein E., Is in vitro antibiotic combination more effective than single-drug therapy against anthrax?, Antimicrob Agents Chemother. 2005 Apr; 49(4):1323-5.
Athamna A, Athamna M, Abu-Rashed N, Medlej B, Bast DJ, Rubinstein E., Selection of Bacillus anthracis isolates resistant to antibiotics, J Antimicrob Chemother. 2004 Aug; 54(2):424-8. Epub 2004 Jun 17.
Athamna A, Athamna M, Medlej B, Bast DJ, Rubinstein E., In vitro post-antibiotic effect of fluoroquinolones, macrolides, beta-lactams, tetracyclines, vancomycin, clindamycin, linezolid, chloramphenicol, quinupristin/dalfopristin and rifampicin on Bacillus anthracis., J Antimicrob Chemother. 2004 Apr; 53(4):609-15. Epub 2004 Mar 3.
Athamna A, Massalha M, Athamna M, Nura A, Medlej B, Ofek I, Bast D, Rubinstein E., In vitro susceptibility of Bacillus anthracis to various antibacterial agents and their time- kill activity., J Antimicrob Chemother. 2004 Feb; 53(2):247-51. Epub 2003 Dec 19
Targeting Conjugates comprising Cyclodextrin-Containing Polymers and Uses Thereof Gnaim, J.M. & Athamna, M. US Provisional Patent Application No. 60/946,775, 2007(CapsuTech Ltd.).
Targeting Conjugates Comprising Active Agents Encapsulated in Cyclodextrin-Containing Polymers.
United States Patent Application 20100226987 Gnaim, Jallal M., Athamna, Muhammad Application Number: 12/666939, Publication Date: 09/09/2010, Filing Date: 29/06/2008
 Targeting Conjugates Comprising Active Agents Encapsulated in Cyclodextrin-Containing Polymers. European Patent Application EP2170054 (A2) Gnaim, Jallal M., Athamna, Muhammad Application Number: EP20080763640 20080629, Publication Date: 07/04/2010
Targeting Conjugates Comprising Active Agents Encapsulated in Cyclodextrin-Containing Polymers. Canadian Patent Application CA 2692021 (A1) Gnaim, Jallal M., Athamna, Muhammad Application Number: CA20082692021 20080629, Publication Date: 23/03/2010
Targeting Conjugates Comprising Active Agents Encapsulated in Cyclodextrin-Containing Polymers. WIPO Patent Application WO/2009/001364 Gnaim, Jallal M., Athamna, Muhammad. Application Number: IL2008/000884, Publication Date: 31/12/2008, Filing Date: 29/06/2008